At A Glance
Curricular Phases
The Brody Curriculum is Composed of three phases:
Foundational Phase: Integrated course work in foundational sciences and organ systems through classroom, simulation, small-group, laboratory, and clinical experiences.
Clinical Phase: Immersive clinical experiences in multiple core clerkships that span multiple disciplines.
Differentiation Phase: Consists of Advanced Core Clerkship and electives to ensure readiness for residency.
Para-curricular Distinction Tracks: Students have the opportunity to pursue a scholarly concentration program beginning in Foundation Phase and culminating in a capstone experience and Distinction Day in the fourth year. Learn more about our Distinction Tracks.
Brody Spiral Curriculum Model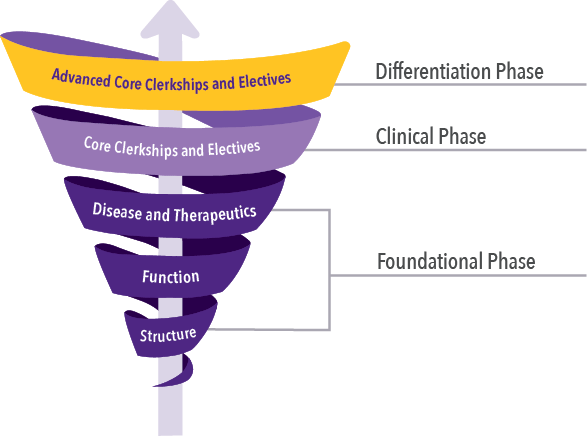 Snapshot of the Curriculum
The BSOM curriculum is designed to offer early immersion in a variety of clinical settings while laying the foundation of knowledge for the practice of medicine. Your education is delivered in a spiral architecture with planned, spaced repetition that ensures you return to key concepts over time with increasing complexity.
The 20-month Foundational Phase consists of the traditional basic sciences content embedded within courses that begin to develop your clinical skills, critical thinking, and understanding of social and systemic forces in health systems. This phase contains an immersion in clinical care experiences including a longitudinal primary and community care preceptorship. Activities focused on professional identity formation, wellness, lifelong learning skills, and reflection are woven throughout the Foundations of Doctoring course.
The Clinical Phase is 12 months and includes six Core Clerkships and 4 weeks of elective time devoted to career exploration. The Radiology Clerkship is a longitudinal experience integrated and aligned with each of the Core Clerkships.
The Differentiation Phase spans the final 13 months of the curriculum and includes the required Advanced Core Clerkships and ample elective time to allow students to further explore their career interests and individualize their learning experiences.
An innovative Health Systems Science curriculum is longitudinally interwoven throughout the four-year curriculum to prepare students to care for patients, families, and communities in a rapidly changing healthcare environment.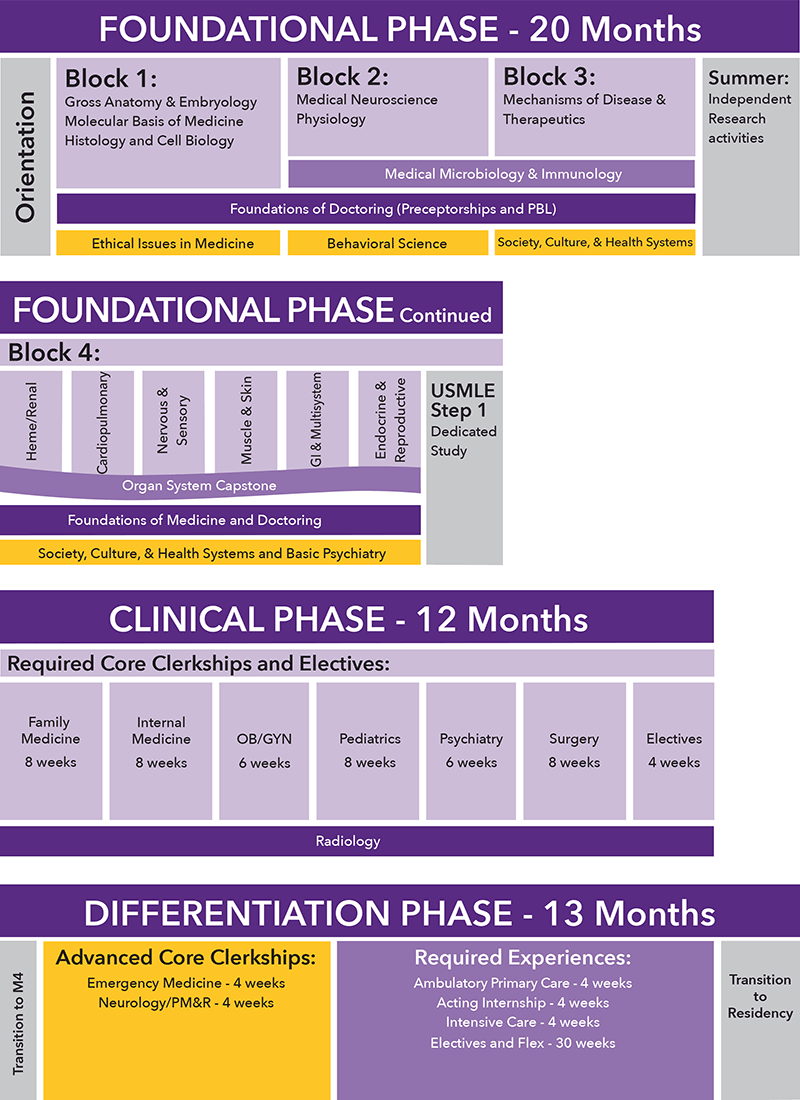 Guiding Principles
The Brody Curriculum was redesigned on the following principles:
To promote early career exploration and ensure readiness for residency.
To better prepare graduates to work in tomorrow's health systems by incorporating health system science training in all phases.
To provide opportunities for students to gain additional expertise in a focused area.
To integrate basic, clinical, and health systems science to improve health and care delivery.
To focus on promoting, supporting, and maintaining health, not just treating disease.
To provide a network for peer and faculty mentoring throughout the Brody community.
To incorporate diverse learning and assessment modalities to drive retention and competency.
To instill intellectual curiosity and develop an aptitude for critical thinking and lifelong learning.
To promote the development of leadership skills, professionalism, ethics, humanism, and service to others.